Relax on the veranda. Take in the sights and sounds.
A beautiful harbourside stay, only minutes from downtown North Sydney and the Newfoundland ferry.
Enjoy our charming waterfront accommodations located in the heart of North Sydney. A Boat to Sea offers character, comfort and the best in Eastern Canadian hospitality.
All of our rooms have been tastefully finished with the greatest care and comfort in mind, as seen by our unique artwork, stained glass and antiques. With a breathtaking view of the harbour, our beautiful gardens and a serene atmosphere, our goal is to provide you with the most enjoyable stay possible.
So many things to do...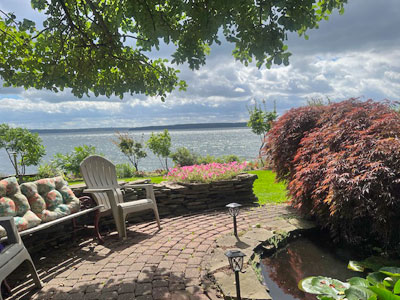 Outside patio area with scenic views.
Walk the extensive gardens, find a special nook.
Enjoy sitting on the swing by the pond - feed the koi.
Waterside veranda - relax and smell the sea breeze.
Large area of water front property.
Roadside scenic walks.
Close to Golf Course / Newfoundland Ferry / North Sydney Downtown.
Perfect venue for small weddings & special parties.
Stay while visiting a loved one, who may be in one of the many local Senior Facilities.
Pet Friendly - Wi-Fi Available.
A Boat to Sea Bed & Breakfast is a member of the
Nova Scotia Bed & Breakfast Association
and
Tourism Industry of Nova Scotia
.